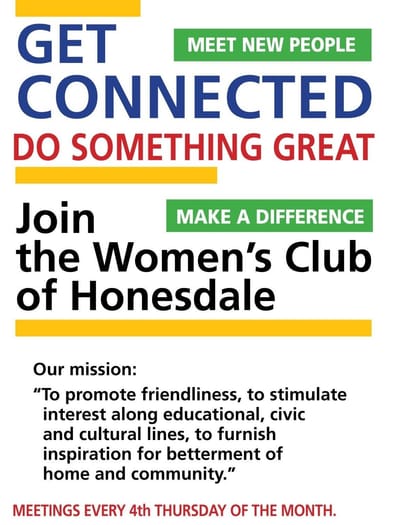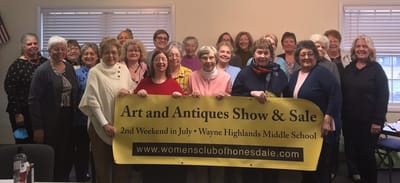 The Women's Club of Honesdale enjoys serving our community. Our members are from all walks of life – retirees, housewives, professionals, business owners and life-long volunteers. Many club members have been part of this organization for more than 50 years. Life-long friendships have been made. We meet monthly sharing conversation and great food prepared by our member hospitality committee. At each monthly meeting we invite diverse and interesting people to present their talents and expertise.
The Annual At and Antique Show and Sale is our main fundraising event that we sponsor. All proceeds from this event benefit the following community organizations, scholarships and charities:
High School Scholarships
Dyberry Day Camp Scholarship
Children's Christmas Bureau
Honesdale Emergency Pantry
GEP Holiday Lighting
Thanksgiving Together
Wayne County Children's Foundation
Girl Scouts Heart of PA
4 Honesdale Fire Companies
American Red Cross
Wayne/Pike Adult Literacy
Habitat for Humanity
Victim's Intervention Program
Wayne County Arts Alliance
Wayne County Public Library
Wayne County Creative Arts Council
Wayne Memorial Health Fund
YMCA
Wayne County Historical Society
Dessin Animal Shelter
Wayne County Children And Youth
Paul Meagher, Kerry Rodriguez joined Women's Club of Honesdale members: Suzanne Bold Kohrs, Nancy Derman, Denise Bussiere, Joan Green to show off the club's beautification project on Main Street.
IF YOU WOULD LIKE TO BECOME A MEMBER, PLEASE GO TO THE CONTACT PAGE AND SEND US AN EMAIL. WE WILL TRY TO REPLY PROMPTLY.